VIZAR Website Manager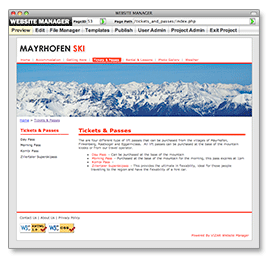 Website Manager is an Enterprise class CMS (Content Management System) that enables a web designer to take a custom built website design and enable non-technical people to maintain the websites content without needing to know how to program in HTML or understand how to deploy a website.
Often running an Internet website requires a wide range of skills and expensive software. Traditional content management systems merely serve to introduce complexities that otherwise prevent you from just getting the job done.
Website Manager is unique in that it allows you to work in the context of your websites own look-and-feel. This enables the author to constantly see how your website will look throughout the authoring process.
Website Manager's top features:
Work smarter, faster and more efficient with VIZAR Website Manager.